There's no better timing to go green than now.
We're all aware of the harmful ingredients found in a lot of commercial cleaning products, and there's no reason why we should continue using them. The benefits of green products are so apparent unless you don't believe them or you're just turning a blind eye.
Let me give you a quick refresher.
Green cleaning is safe not just for you, but for your home, the environment, and everything else in between. They don't contain harmful chemicals that are present in most conventional cleaning products. Just so you know, these substances are often carcinogens, mutagens, neurotoxins, and much more — all of which are unsafe.
So why don't you start switching to these Eco-friendly products that I've rounded up just for you?
LoofCo Washing-Up Pad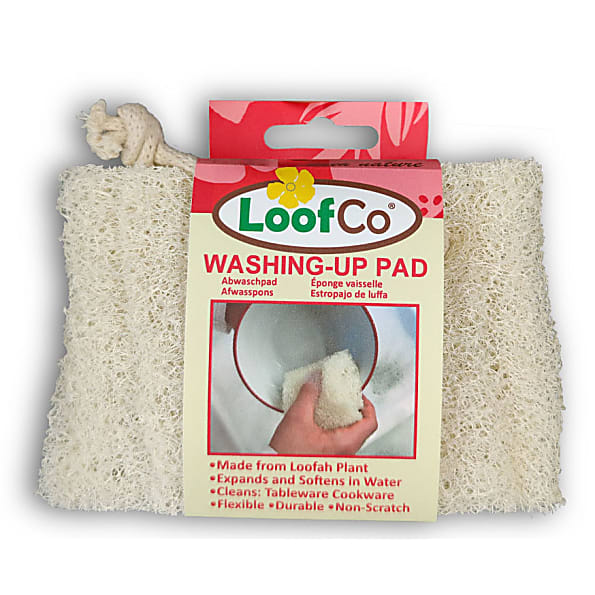 LoofCo is a new player in the market of green cleaning products and accessories. This washing-up pad was hand-made in Egypt using natural loofah plant and coconut fibres. It may appear abrasive when dry but don't worry, they are scratch-free, spongy, and very soft when wet.
It should last for months but to get the most out of it, it's advised that you squeeze out excess water and hang it to dry in between uses. When it has finally reached its end-of-life, you can get rid of it quickly as it's biodegradable and recyclable which means that you're not hurting the environment.
To make things even better, you're supporting a global community. LoofCo products support traditional skills, crops, and cottage industries that ensure fair wage which is brilliant!
Since this washing-up pad from LoofCo is 100% natural, it's only logical that they are paired with eco-friendly washing-up liquids as well. Scroll down further to see what we have for you.
Where to get it: https://www.biggreensmile.com/products/loofco-washing-up-pad/loofwashpad.aspx?productid=loofwashpad
Cost: £2.75
Forever Aloe MPD
Instead of using various detergents for cleaning things, wouldn't it be better to have just one solution for all of these tasks? That's probably the inspiration for Forever Living when they decided to create this excellent product.
The Forever Aloe MPD is an all-rounder and can clean the kitchen, laundry, bathroom, floors, tiles, carpets, and even cars. Indeed, this product is a must-have in any household. The old version of this liquid detergent has been improved even further, now more concentrated which means more cleaning power.
Not only is it useful in removing stains, grime, and grease, it's also non-abrasive which conditions and softens your hands and clothes. It's also phosphorous-free which makes it environmentally-friendly unlike a lot of detergents.
Do note though, that it is not advisable to be used in dishwashers.
Where to get it: https://www.foreveraloeverashop.co.uk/about/animal-home-products/forever-aloe-mpd-multi-purpose-detergent/
Cost: £19.87
Dr. Bronner's Sal Suds Biodegradable Cleaner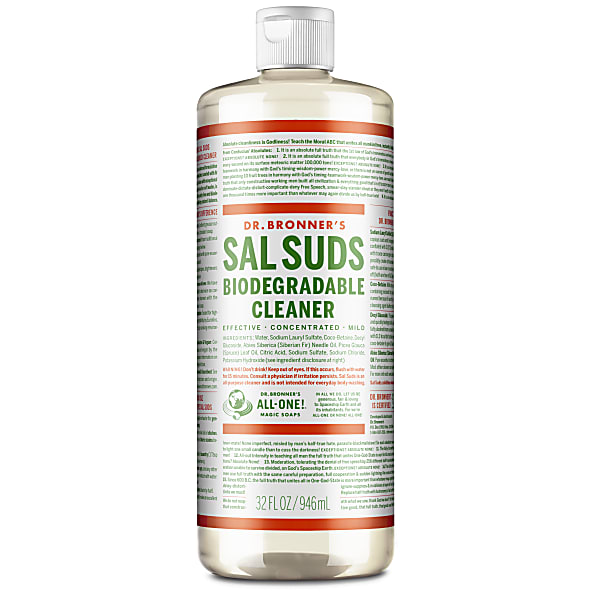 If you've been using a lot of chemical-based cleaning detergents for a very long time, you probably have experienced headaches, coughs, and other symptoms. And do you know who the culprits are? You're right, it's probably the chemicals that are included in these detergents.
If that's the case, you should give Sal Suds by Dr. Bronner's a try. For starters, it is made by a very reputable company that's famous for making socially and environmentally responsible products. After all, it's always good to know that the products you buy are made by a top-selling natural products maker worldwide.
Dr. Bronner's Sal Suds is a well-balanced formula of naturally derived surfactants with pure fir and spruce essential oils. They may be gentle to you and the environment, but it's tough on stains, grime, grease, and a lot more.
There are just so many applications to use Sal Suds for. Cleaning the bathroom, kitchen, laundry, carpets and fabrics, dishes, furniture, wood, stainless steel, and so much more. To top it all, the profits made from these products go to various charities and other noble acts.
Where to get it: https://www.biggreensmile.com/products/dr-bronners-sal-suds-all-purpose-cleaner-960ml/drbalp960ml.aspx?productid=drbalp960ml
Cost: £15.49
Seventh Generation Cypress Toilet Cleaner
Bathroom cleaning sure is tough, but the toilet bowl is probably the most crucial part of the ritual. We always have to make sure that it's cleaned both inside and out as germs can build up quickly.
Almost all conventional toilet cleaners contain these three harmful ingredients — hydrochloric acid, chlorine bleach, and phosphates. The first two are responsible for irritating your eyes, skin, and respiratory tract. They're even fatal when swallowed.
Phosphates, on the other hand, is not good for the environment. It's one of the causes of algal blooms, which is a major concern in almost all parts of the world.
How about a plant-based toilet cleaner for a change? It's made by Seventh Generation which is a US-based cleaning product company that makes use of plants as their main ingredient. This toilet bowl cleaner is non-toxic and biodegradable, doesn't create harsh fumes, Kosher-certified, and not tested on animals. Oh, the plastic bottle is even recyclable too.
It's worth mentioning that it's got a very strong 'Emerald Cypress and Fir' scent. Still, it's not as bad as that of acid-based cleaners. This should only be a concern if you have a very sensitive nose.
Where to get it: https://www.tesco.com/groceries/en-GB/products/295164901
Cost: £3.50
Earth Friendly Products Shower Cleaner
Now that we're done with a toilet bowl cleaner, what about a shower cleaner this time?
Hard water stains, soap scum, mildew, mould — getting rid of these things are a pain, especially if you live in a hard water area. But not with this shower cleaner from Earth Friendly Products. This natural product doesn't even require wiping, rinsing, or scrubbing. Just spray it after each shower, and you're good.
All the ingredients used in making this cleaner are plant-based (natural essential oils of tea tree and lavender) and 100% biodegradable. It's non-toxic and doesn't emit harsh fumes, but at the same time is a very powerful antiseptic. The packaging itself is also recyclable.
Aside from the shower, you can also use it for cleaning the bath, sink, toilet seat, and mirror. With this, you can keep your bathroom squeaky clean with a touch of lavender scent.
Where to get it: https://www.greenbrands.co.uk/bathroomcleaningproducts/SC500ml.html
Cost: £3.60
After reading about these products and all of their benefits, I'm pretty sure you should be convinced by now. If not, let me throw some more benefits of green products your way.
First, you save money in a sense that you don't have to buy multiple cleaning products for different applications. Second, most manufacturers of natural cleaning products are more than happy to reveal the ingredients used in making them which is very important. And third, you become a green role model, and reduce your carbon footprint!
If all the people in the world use green products, I'm sure Mother Nature would be pleased. Wouldn't you agree?